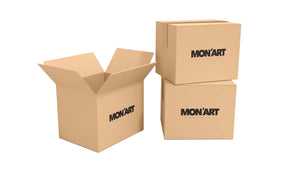 MON'ART MYSTERY BOX
MON'ART mystery box product description:
Want to spoil yourself with a gift? Want to gift a friend and don't know what frames to choose from? With our Mon'Art Mystery box we will send you 3 of our frames/emergency buttons and a T-shirt to your desired  size together with a sticker pack! A big & fun suprise for you or your loved one to open the mystery box! 
If you have previous orders with us, we will make sure you won't end up with the same product which you already ordered in the past. 
All frames come in a seperate box in the mystery box, we know you will not keep the box but it just makes sure the product arrives in 1 piece. This piece comes with inside protection and transport cubes. 


Mystery Box contains:
- 3 Emergency Frames or combined with an emergency button (value 3 x €99.99 = €299,97)
- 1 T-shirt (value €32.99)
- 1 Sticker Pack (value €8.99)
Total value: €341,95